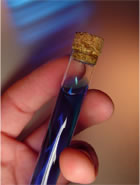 Wilube Chemical, Inc.
Background
Wilube Chemical Inc. has been in business for more than half a century, and supplies high quality lubricants to many segments of the metal-working industry, including a full range of products for the coil making industry.
Wilube's manufacturing operation consists of a 34,200 square foot production facility, including:
11 mixers with a total volume of 10,265 gallons.
2 covered spill containment bulk transport shipping/receiving docks.
10,200 square foot warehouse with 9 loading docks.
21 storage tanks totalling 138,375 gallons.
Quality
Wilube product consistency is assured via a quality management program utilizing statistical process control of both incoming raw materials and outgoing finished product. Quality control tests include the following: x-ray fluorescent analysis, infrared analysis, viscosity, API gravity, flash point, pour point, floc point, falex lubrication test, moisture, pH, acid number, and base number.
24/7 Technical Support
Our technical staff is always at your call for service 24 hours a day, 7 days a week.